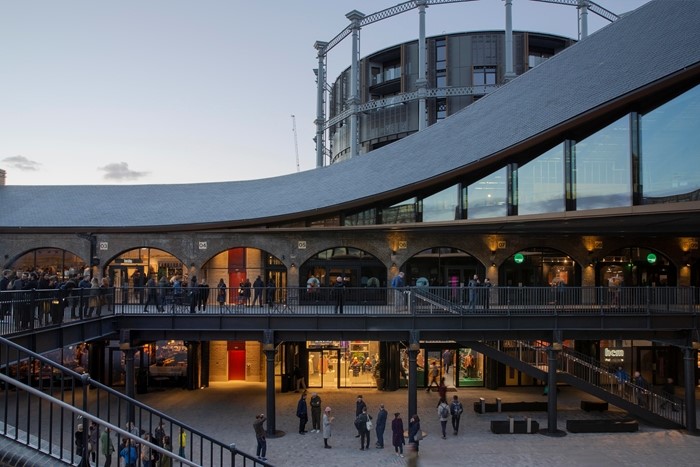 © Heatherwick Studio
We are delighted to announce that Coal Drops Yard has received the prestigious Institution of Civil Engineers award and the RIBA London Award 2019. We are also pleased to annouce that Coal Drops has now won the RIBA National Award for 2019.
Giles Quarme & Associates acted as conservation architects and heritage consultants on the project which saw two Victorian railway buildings for retail use. The scheme, led by Heatherwick Studio, involved the creation of a stunning new roof and extensive repairs to the once semi-derelict structures. It sits at the heart of the King's Cross development, which has been widely praised as a leading example of regenerating an urban quarter.
The scheme won The ICE's inaugural Bazalgette Award for Sustainability at their London Awards. The award was presented to '…the best civil engineering intervention that has significantly improved the sustainability and resilience of a new or existing piece of infrastructure or a building.'
In their citation, the judges complimented the scheme for 'its sensitivity to historic fabrics despite the bold design of the new structure'.
"It was evident in the scheme and from 'before' photos, just how much repair work had been done and that great care had been taken to identify original materials including the slate tiles for the roof, which were quarried from the same seam as the original. The character of the historic buildings and their setting have been brought back to life through sensitive adaptation and clever reuse for the 21st Century, whilst effectively retaining their industrial feel and vestiges of the past."
https://www.architecture.com/awards-and-competitions-landing-page/awards/riba-regional-awards/riba-london-award-winners/2019/coal-drops-yard
https://www.ice.org.uk/news-and-insight/latest-ice-news/ice-london-civil-engineering-award-winners